This is a professional league for men in t20 format. Ten teams participate in the IPL from 10 different cities in India. The Board of Control for Cricket in India (BCCI) launched this team in 2007. The debut match was started in 2008. In general, this IPL is organized in March and May every year. Zee international enterprises provided the fund for IPL.
The detailed knowledge about IPL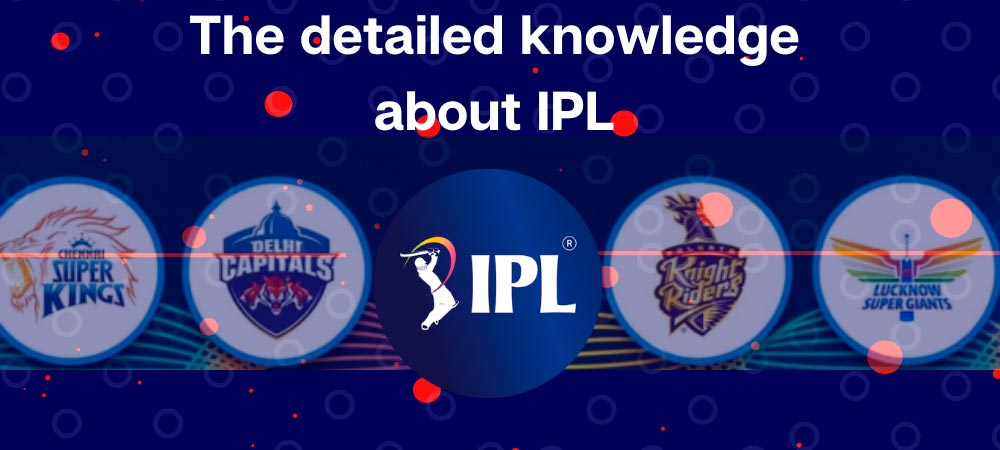 Before discussing the teams, we should know how many teams in the IPL play this game and where they belong to:
The Chennai Super Kings (Chennai),
Gujarat Titans (Ahmedabad),
Delhi Capitals (New Delhi),
Kolkata Knight Riders (Kolkata),
Mumbai Indians (Mumbai),
Punjab Kings (Mohali),
Lucknow Supergiants (Lucknow),
Royal Challengers Bangalore (Bengaluru),
Rajasthan Royals (Jaipur),
Sunrisers Hyderabad (Hyderabad).
Among them, Mumbai Indians became the most popular IPL team. As it won the IPL trophy 5 times. 
Now we need to know about the owners of the IPL team. N.Srinivasan is the owner of Chennai super kings. Shahrukh khan and Jay Mehta are the owners of Kolkata knight riders, Sajjan Jindal and Grandhi Mallikarjuna Rao are the owners of Delhi capitals, Sanjib Goenka is the owner of Lucknow supergiants, Mukesh Ambani owned Mumbai Indians, Gujarat titans is owned by Steve Koltes, Rolly van Rappard, and Donald Mackenzie, Kalanithi Maran is the owner of Sunrisers Hyderabad, Prathmesh Mishra is the owner of Royal challengers Bangalore, Mohit Burman, Preity Zinta, Karan paul are the owners of Punjab kings and Gerry Cardinale, Manoj Badale and Lachlan Murdoch are the owners of Rajasthan royals. 
The two other teams such as Kochi Tuskers Kerala and  Pune Warriors India also joined before the fourth season in 2011. Pune Warriors was bought by Sahara Adventure sports group and Rendezvous sports world bought the Kochi franchise. But these two teams were terminated due to violating the rules and regulations imposed by the BCCI. Gujarat titans emerged as the new IPL team among all these teams. They will start their debut in 2022.
The list of IPL winning team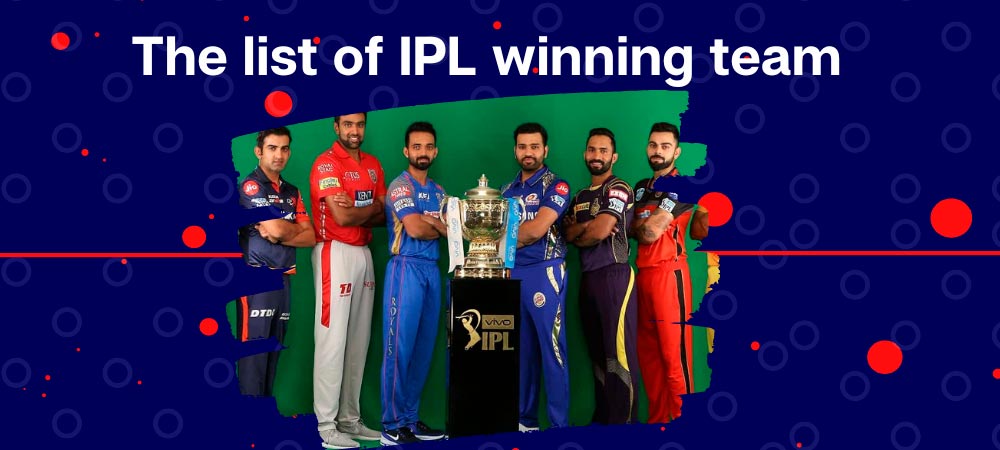 The Rajasthan Royals won the IPL Trophy in 2008 by defeating Chennai super kings in Mumbai.
The IPL team Deccan chargers became the winner beating Royal challengers in Johannesburg in 2009.
In 2010, Chennai super kings became the winner defeating Mumbai Indians in Mumbai.
In 2011, again Chennai super kings( CSK) became the winner beating Royal challengers Bangalore.
In 2012, Kolkata knight riders (KKR)was the winner and Chennai super kings became the first runner-up in the final match in Chennai.
In 2013 Mumbai Indians (MI) won the trophy beating Chennai super kings in Kolkata.
In 2014, KKR won the trophy against Kings XI Punjab.
In 2015, MI won over CSK in Kolkata.
In 2016 Sunrisers Hyderabad won the IPL league over Royal challengers Bangalore.
In 2017 MI won the trophy beating Rising Pune Supergiants.
In 2018 CSK, in 2019 and 2020 MI, and in 2021 CSK became the winner in the IPL tournament.