Looking at the craze of the IPL, the organizers have got the idea to enlarge the team and now 2 more teams are added to the team. The two teams which are going to be added are Lucknow and Gujarat, by the addition of these two teams also there will be a total of 10 teams in the IPL.
The auction for IPL 2022 has started and the players are ready to be auctioned in Bengaluru. As you know during the auction few new players are introduced and they are also auctioned and this is why many younger cricketers are seen in the IPL. 
Other than this there are few players who remain retained in IPL 2022, from each team there are few players who remain retained. The price of the retained players also starts from 1 crore and the maximum price can range higher.
Here is a list of players who were retained in IPL 2022:
IPL retained players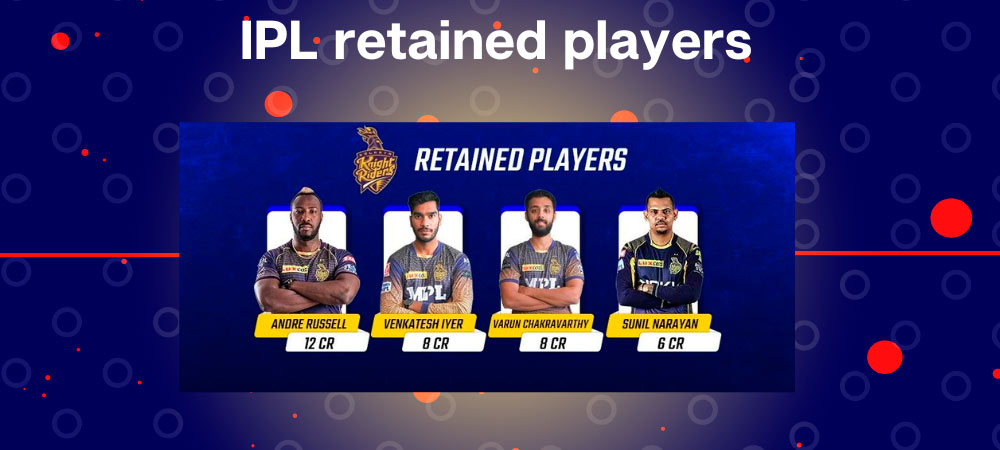 For the retained players of IPL 2022 a total of 90 crores is invested, usually, in retained players, those players who have excellent performance in their last performances, and those who have been a part of the IPL for a very long time. 
Here is the list of retained players according to their team:
Chennai Super Kings
Ravindra Jadeja
M.S Dhoni
Moeen Ali
Ruturaj Gaikwad
Mumbai Indians
Rohit Sharma
Jasprit Bumrah
Suryakumar Yadav 
Kieron Pollard
Sunrisers Hyderabad 
Kane Williamson
Abdul Samad
Umran Malik
Royal challengers Bangalore
Virat Kohli
Glenn Maxwell
Mohammad Siraj
Punjab Kings
Mayank Agarwal
Arshdeep Singh
Delhi Capitals
Rishabh Pant
Axar Patel
Prithvi Shaw
Anrich Nortje
Kolkata Knight riders
Andre Russell
Varun Chakravarthy  
Venkatesh Iyer
Sunil Narine
Rajasthan Royals
Sanju Samson
Jos Buttler
Yashasvi Jaiswal
Auction Of IPL 2022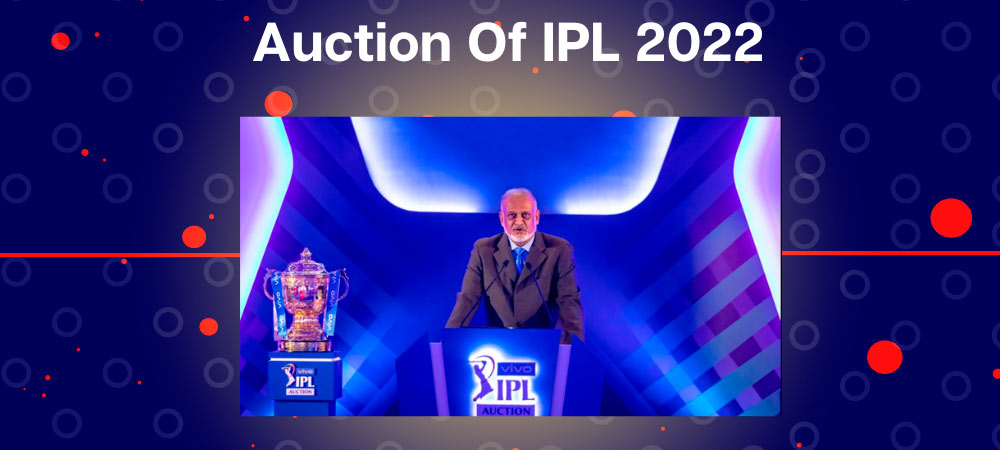 Auction is the first step in the IPL, and it began 2-3 months before the IPL also auction decided the price of the player for their service in IPL and more. In an auction, the organizer players and many more teams are invited for the auction and they are also allowed to participate in the auction.
The date of the auction is the 12th and 13th of February, and there will be the presence of 10 franchises. These are the franchises that are going to participate in the IPL. This auction is said to be a mega auction because in this auction there will be the presence of 600 cricketers and among them, only a few players will get the opportunity to play in the IPL. Hence this will also be a time of heartbreak for the players. 
Now that you know the date of the auction, it is very important to know the place where the auction is going to take place. So this time the auction is going to take place in Bengaluru, in the presence of board members and other important franchises which are currently 10.